August 1 – 31, 2005
We awoke to gray skies and a forecast of afternoon thunderstorms… time to re-think our plans.
After a lot of soul searching, we decided we had truly enjoyed the trip thus far and we shouldn't push our luck. As I think I had already mentioned, this next leg would be a 60 nautical mile sail about 50 nautical miles off shore… bottom line, no turning back! At our top speed, under optimum conditions, we're talking a 10 hour trip… if the weather turned ugly, we'd have no place to hide and a hell of a long haul to make it to a safe harbor.
The weather was already looking iffy and with the forecasted worsening of the weather due to Katrina (little did we know what the true impact of Katrina would be) we decided that even Portsmouth was out of the question and decided to find a marina closer to home.
We asked around a bit and had several people mention that the marina in East Dennis Massachusetts, was probably most capable of handling our needs. A couple of quick calls secured us a slip for the next few days, assured us that they would be able to pull Rocinante out of the water early and reserved a car at a "nearby" airport.
This all worked out quite well… we readied ourselves and Rocinante for the trip ahead, cast off our mooring line and said farewell to P-Town!
As we came out from around the protection of the hook, it started… again, nothing awful, just a bit of a chop and a stiff breeze dead on the nose! It was going to be a long 18nm (nautical miles)
Slowly, but surely, we made progress towards our destination… 5.5 / 6 knots or so our average speed. Then right on schedule, the chop turned into waves that continued to grow… you know the story… two footers became three footers which became four footers which… actually, they stopped around the four foot range with the occasional 6 footers. This time however we were heading into them, so it simply slowed us down and showered us with spray… it seemed like we would never get there.
We would be cruising along through the waves at about 4 / 4.5 knots when a series of six footers would hit… we'd climb the first wave… 3.5… 3… slam down into the next and climb the third… 2.5… 2… slamming down into the fourth… 1.8 knots… we thought for sure we were going to start going backwards! Nevertheless, as surely as each series of waves slowed us down, Rocinante would gather herself and slowly pick up speed again awaiting the next onslaught.
As the day wore on, we lost sight of the only landmark behind us, the Pilgrim Monument, and anxiously looked for signs of land in front of us… a few hours later, we spotted our first of two buoys marking the way to the harbor entrance… within 30-45 minutes, we spotted the dual breakwaters extending out from the mouth of the river… we were almost there.
Once past the breakwater, we made our way up the tiny channel towards the marina and pulled into our assigned slip. I'm sure we'll look back on this in the years to come and laugh, but for now, it had been yet another arduous trip…
We cleaned up and you guessed it, headed out for lunch at the marina's cafÈ… I had the best lobster roll ever… for those of you that are not familiar with this delicacy; it consists of a hotdog roll, lined with lettuce leaves and then piled with lobster salad! The good ones, and this was by far the best, are almost pure lobster with just a bit of mayo to bind it together… to give you some idea, this one actually had the whole claw nestled in amongst the chunks of tail meat!
Satiated, we headed back to Rocinante to figure out our next steps… we filled out the paperwork to have Rocinante hauled and stored for the winter, contacted a local cab company (John's Taxi) for the trip to the airport to pick up the rental, and waited…
Sure enough John's Taxi showed up, driven by no other than John himself with his lovely bride by his side… guess this was a true family business!
$40 and a quick trip to the Hertz counter later, I was on my way back to the marina… oh yea, stopped by Captain Crusty's (or something like that) and picked up some fried oysters along with fish and chips for dinner. M-M-M! (yummy sounds)
After dinner, we took "Dapple" (yep, we finally named our tender) and headed out to explore…
First, we headed up river… lovely, until we went to far into the reeds and were attacked by vicious hordes of mosquitoes and no-seeums! We quickly retreated and headed down river towards the breakwaters… we pulled Dapple up on the beach and enjoyed the moonlit sky until… you guessed it mosquitoes again!
We picked up a few stones to add to our "beaches we've visited" collection and rowed back to Rocinante, were we had yet another lovely dinner of linguine with clam sauce…
We slept well, knowing we had a hard day ahead of us packing our unused provisions for the trip back home.
Sure enough, Tuesday we awoke to pouring rain… we had breakfast and started to deal with the harsh realities of returning to life on land.
First order of business, retrieve the bottles of wine from the cellar and pack them for the trip home… I pulled the cushions from the v-berth, removed the access panels to the locker below and started pulling out bottles waiting to find broken shards amongst those that remained whole (remember all the lifting and slamming down of the waves?) to my surprise, not a single bottle was lost!
Rocinante was in a state of turmoil, her lovely cabin was strewn with "stuff" as we pulled items from their designated spots deep in the bowels of the ship (ok, the various settee lockers) and started to pack them.  Amazing how much we had managed to cram into what had seemed like very limited space!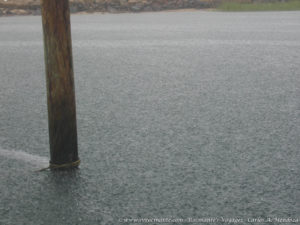 For the entire day, every break in the downpours was accompanied by a mad dash across the floating dock and up the gangway hauling our unused provisions to the awaiting SUV.
Slowly, but surely, we made progress and Rocinante rose up out of the water un-laden of her excess cargo.
Next was "Dapple"… what a nightmare!
Between Maria and I, we managed to empty the rainwater that collected in our tender and dragged her (I think she's a "her") onto the floating dock… we spent the next 30 minutes scrubbing her clean and deflating her in the pouring rain.
When the rains finally subsided, at least for a while, we quickly emptied her again, dried her off as best we could, folded her up, wrapped her in her storage bag, hauled her up on deck and strapped her down for her winter's nap.
By the time nightfall came, we where exhausted; we had just un-stowed, packed, hauled up a huge incline (low tide meant a 12ft climb from the floating docks up said gangway) and loaded into the SUV several hundred pounds worth of provisions!
We crashed and slept…
No more rain… while not exactly sunny, it was at least somewhat dry.
Still no internet access, how were we going to find our way home… a quick call to dad and we had directions!
With the rains gone, we went about the task of drying off the canvas and taking it all down to store for the winter… not a simple task, but fairly straight forward. We packed up the last bunch of items (amazing how much we still had to pack) loaded up the SUV said goodbye to Rocinante and headed off down the highway.
Ignoring the various interruptions, We had been traveling for approximately 14 days… it would now take us 5 hours to get home… it just didn't seem right!
It was an interesting trip home… we were obviously punch drunk, because we found humor in the most bizarre things. We quipped about how easy this was; driving along at 75 miles and hour on a road that didnít move underneath you, following signs that clearly told you where to go and required no interpretation… we wanted no part of it!
As I sat there writing those last few words, I longed to be back aboard Rocinante… amazingly enough, so did Maria. We had both found joy in this new place.
A place where you have time to read or just sit and look out at the horizon.
A place where lobster dinners and deviled ham on crackers provide similar levels of satisfaction.
A place where you need to be conscious of how much water you use and how much garbage you produce.
A place where you are responsible for your actions and their repercussions.
A place where you truly appreciate and enjoy the luxury of a hot shower.
A place where you can relish the simple act of being.
In May, Rocinante will once again carry us there.
Until then, weíll do the things we have to do and wait…
I'll leave you with this butchered quote from the Pirates of the Caribbean:
Not just Maine, luv. The entire ocean. The entire wo'ld. Wherever we want to go, we'll go. That's what a ship is, you know. It's not just a keel and a hull and a deck and sails, that's what a ship needs but what a ship is… what Rocinante really is… is freedom.
Till next time,
Carlos & Maria
SV Rocinante…_/)