Yep, we have brand new Boat Cards hot of the presses!
If you're one of our land based fans, you're probably wondering; "what the heck are boat cards?" and if you're just getting started cruising, you might be wondering what to put on yours.
Well, they're basically the cruiser's equivalent of a business card and in it's simplest form, it contains the contact information that you want  to share with other cruisers.  Ours, for example, contains:
Our names
The name of our boat and make/type
Our email addresses
and on the back, our "logo" and the URL for our website!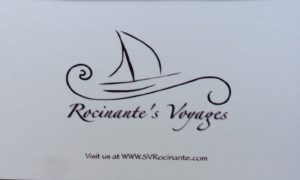 Some other items you might include are:
MMSI number (like a phone number for your boat)
Cell Number
Hailing Port
We decided to leave those specific items off so that we can share our cards freely with people we meet along the way and typically write our cell numbers on the cards we give to cruisers we've spent more time with and gotten to know better.  Just a personal choice that has worked well for us.
We simply chose to add a nice picture of Rocinante heading down the intra-coastal, but some folks put a photo of themselves on their cards.  Now mind you, it does come in handy at times, but we found that most cruisers typically remember the faces associated with the boat, but forget the names… again, personal choice!
Now, you land based folks are probably still wondering why the heck we need boat cards in the first place… well, remember that similar to business meetings, you typically meet a lot of people at the same time and the cards make it easy to remember who they were at a later date.  On Rocinante, we keep a dedicted  "business card" book for all the boat cards we've collected during our voyages.  Amazingly enough, they really help jog our memory of the wonderful places and people we meet along the way.
Carlos & Maria
SV Rocinante…_/)